2022•05•12 Global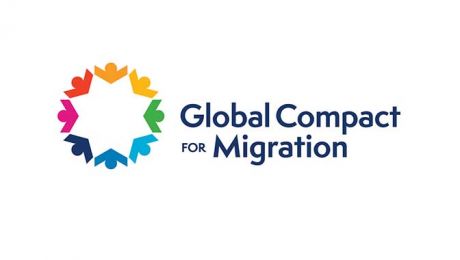 GCM logo: United Nations
In April 2022, UNU joined other UN entities in endorsing a UN System pledge on the Global Compact for Safe, Orderly and Regular Migration (GCM). In this blog series, members of the United Nations University Migration Network and guest contributors reflect on the equitable and evidence-based implementation of the GCM in policy and practice.
In the first blog of the series, Elaine Lebon-McGregor (UNU-MERIT) draws on ongoing research with Daniel Naujoks (Columbia SIPA) and Niels Ike (UNU-MERIT) to reflect on what we can really say about progress in the implementation of the GCM. Their review of 86 National Voluntary Reviews (NVRs) submitted by States between 2020 and 2021 reveals great diversity in the way States are interpreting, implementing and monitoring the GCM. As we enter the next four-year cycle of GCM implementation, the blog reflects on the call of the UN Secretary General and Member States to develop better tools to measure GCM implementation. Read the full post here.
In the second blog of the series, and ahead of a side-event co-convened by UNU-CPR and UN Human Rights, Heaven Crawley (UNU-CPR) reflects on what we know about the relationships between migration and inequality, and why better knowledge and understanding of their interconnectedness is critical to the successful implementation of the GCM. She draws on research coming out of the MIDEQ Hub to show how the relationship between migration and inequality is not straightforward and calls on UN Member States to make their GCM commitments more meaningful by reflecting on how these relationships play out in different contexts. Read the full post here and sign up for the side event on Friday 20 May 2022 08.30-09.30 EDT (New York) here.
In this third blog of the series, Rossella Marino (UNU-CRIS) reflects on the barriers that exclude grassroots civil-society organisations (CSOs) from participating in the implementation and monitoring of the GCM. A distinctive trait of the creation of the GCM was the involvement of CSOs in the process. Yet, as Rossella highlights with regard to the experience of Youth Against Irregular Migration (YAIM), a returnee-led association from The Gambia, Southern and grassroots CSOs have not been appropriately supported to participate in the monitoring of the GCM implementation, thereby rendering the process partial and fallacious. Read the full post here.
As the dust settles on the first International Migration Review Forum, Heaven Crawley reflects on whether enough is being done to centre equality in the implementation of the Global Compact on Migration. Read the full post here.
Louis Herns Marcelin and Toni Cela of the Interuniversity Institute for Research and Development (INURED) in Port-au-Prince, Haiti, consider the policy implications of the path dependence created by inequalities and inequities in home countries that persist throughout the migratory process. Read the full post here.