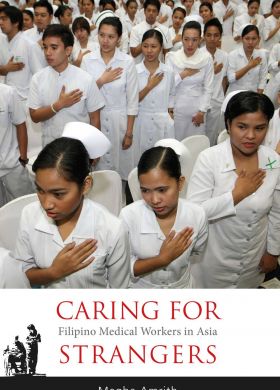 PUBLICATION DATA:

ISBN-10: 978-87-7694-192-5

PUBLISHER:

NIAS Press

PUBLISHED:

March 2017

HARDCOVER
Caring for Strangers explores the personal narratives, experiences and aspirations of Filipino medical workers living and working in Singapore and beyond.
Today, the Philippines has become one of the largest exporters of medical workers in the world, with nursing in particular offering many the hope of a lucrative and stable career abroad. This timely volume narrates their stories in a multi-sited ethnography that follows aspiring migrants from Manila's vibrant nursing schools, where they dream of glamorous, cosmopolitan lives abroad, to a different reality in Singapore's multicultural hospitals and nursing homes. It also accompanies nurses' off-duty activities in shopping malls and churches and their rich online lives, where they connect with friends and family around the world and search for future opportunities. Finally, Caring for Strangers follows them back home on a visit to a Filipino village.
Mirroring migrants' transnational lives, this book offers anthropological insights into the everyday experiences, anxieties and expectations of Filipino medical workers who care for strangers in a global Asian city. It locates their stories within wider debates on migration, labour, care, gender and citizenship, while contributing a new and distinctive perspective to the scholarship on labour migration in Asia.