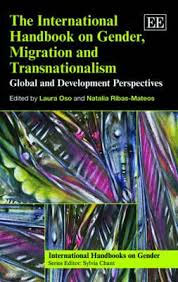 PUBLICATION DATA:

ISBN-13: 978 1 78195 146 0

LANGUAGE:

English

PAGES:

512

PUBLISHER:

Edward Elgar Publishing Ltd.

PUBLISHED:

January 2013

HARDCOVER
Transnational return and pendulum migration strategies of Moroccan migrants: Intra-household power inequalities, tensions and conflicts of interest
Appears in: L. Oso and N. Ribas, The International Handbook on Gender, Migration and Transnationalism: Global and Development Perspectives, Edward Elgar Publishing, Cheltenham, UK.
The International Handbook on Gender, Migration and Transnationalism represents a state-of-the-art review of the critical importance of the links between gender and migration in a globalizing world. It draws on original, largely field-based contributions by authors across a range of disciplinary provenances worldwide.
This unprecedented and ambitious Handbook addresses core debates on issues of gender, migration, transnationalism and development from a migration–development nexus. The volume explores the influence of global changes – and more specifically transnational migration flows – from the perspective of the articulation of production and reproduction chains. Particular attention is paid to so-called 'global care chains' with new analytical models developed around the emerging trends played out by women in contemporary mobility dynamics.
This Handbook will provide a thought-provoking resource for a multidisciplinary audience of academics, researchers and students of social science disciplines encompassing: economics, sociology, geography, demography, political science and political sociology, migration studies, family and gender studies, and labour markets. The Handbook will also be of major interest and importance to local and national governments, international agencies and their policymakers and administrators.